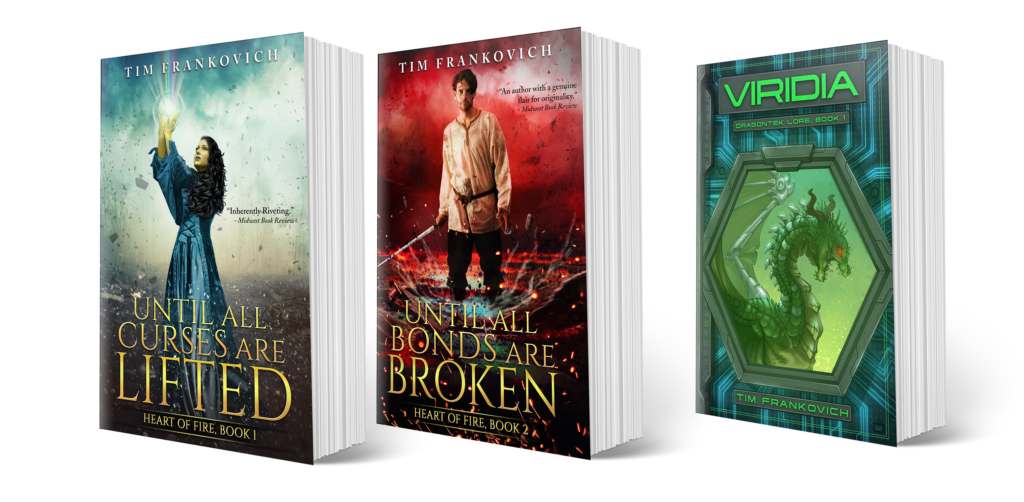 Let's dispense with the usual observations about 2020. We KNOW. Moving on… Let's talk about what I wrote in 2020.
I made a total of 30 posts to the blog, although quite a few of those were announcements, so they barely count. Even so, that averages to more than every other week. In addition, my mailing list grew quite a bit, and enjoyed regular updates, especially in the latter half of the year. (If you're not subscribed, check out the link here.)
Heart of Fire series
With the first draft of Until All Bonds Are Broken finished at the start of 2020, I dove right into re-writes and edits. After finishing all of that, getting a cover design, and all the usual behind-the-scenes stuff, the sequel to Until All Curses Are Lifted was published on April 30.
Later in the year, I launched into writing Until All the Gods Return, the third book in the series. At the present moment, I'm around 76,000 words into it (and you can see the progress over on the right side of this page). For comparison, book two was around 130,000 words. I'm over halfway through, at the least, but I'm thinking this one might end up just a bit shorter. I can see the climax of the story from here.
Dragontek Lore series
In between those two, I launched another series of books, Dragontek Lore, with the first book, Viridia. This one is aimed more at the YA audience. Very fast-paced and action-oriented. Plus dragons. And cyber tech. Fun times. This book was actually written four years ago, but needed a lot of re-writing to get it up to my quality standards. I'm very happy with the cover by Austin Degroot, and I'm excited to see what he does with the subsequent covers.
I started a short story to tie into that series, but it's not done. For some reason, I have much more trouble writing a short story than I do a full-length novel. If you're a Viridia fan, wondering about that story I promised… it's still coming. I'll get there. Eventually.
Coming in 2021
As mentioned above, my current focus is Until All the Gods Return. I hope to finish the first draft within the next couple of months, then dive right into edits. If all goes well, you can expect to have this book in your hands before summer starts.
During that time, I'll also be starting on Incarnadine, the second book in the Dragontek Lore series. I can write these books a lot faster, and they provide a good break from the intricacies of the Heart of Fire series (for more on why I'm alternating see this explanation). Aiming for late summer/early autumn for this book.
Which takes us to the final book of the Heart of Fire series: Until All the Stars Fall. Will I get this one out before the end of 2021? I don't know. I know that I am capable of getting three books out in a year, but whether I manage to do it will depend on a lot of other factors (and whether I am able to write consistently every day of the new year).
Beyond 2021
After that, I'll work on finishing up the Dragontek Lore series. I'm still not sure exactly how many books this series will run. Some of the later plotting still needs to be done.
Beyond… I have plans for more books. I've started the rough outlines of a series of books featuring a trio of nomadic warriors in a more classical fantasy setting. This will probably also be YA-focused, though I'm not certain. It'll be fun, though. And will probably be a lengthy series.
And then I have a truly epic fantasy in mind, currently under the working title Bloodless. This one will be huge. About once a week or so, something else about this one pops into my brain. I'd love to start on it right this minute, but to do the concept justice, I need to make careful plans. You probably won't hear anything about it until another year from now. Unless I turn into a complete writing madman and start cranking books out every other month or something.
After that, in the far future, I have some ideas for a trio of urban fantasies, something completely different. Who knows? Story ideas come to me when I least expect it. The only way to find out what I'll do next is to stay in touch. And the mailing list is the best way to do that.
Onward!