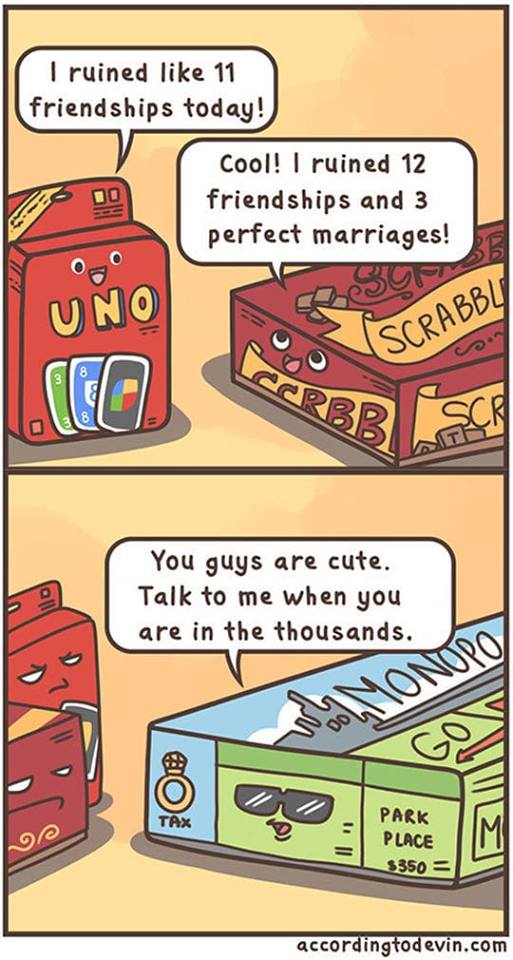 Recently, this comic strip popped up in one of my social media threads. The responses ranged from "so true!" to "this is nothing. Try playing Diplomacy."*
This bothered me for a number of reasons, especially since the posting was in a group dedicated to board games! I pondered it for a while, and why none of this was true for me. You see, I've been playing board games my entire life. I have a large collection of games that I love to play. I'd rather play board games than just about any other leisure activity.
And I've never experienced the level of anger/problems depicted in this comic strip.
I can recall times that people got mad over the style a game was played. We adjusted the play style for them and kept going. I can recall one game of Diplomacy in which a friend couldn't believe I betrayed him… and the only reason I recall it is because he brings it up every time the game is mentioned. But we're still friends. I had a guy get really angry in a game of Terraforming Mars a few weeks ago, but he was a complete stranger I was playing with for the first time.
That's the key right there. The friends I play games with? Some of them I've been playing against for decades. We're still friends. No one's ever kicked over the table. No one's ever held a grudge (except, apparently, that one friend and the Diplomacy game…). I haven't lost any friendships over any games, most of which are far more cutthroat than Uno or Monopoly (and Scrabble? Seriously, people?).
This leads to a very crucial but controversial conclusion: the problem is not the games; the problem is the people. 
If the people with which you're playing games are going to take it personally when you play a "Draw 4" on them, perhaps you should be playing with other people. Seriously. Everyone involved needs to accept the nature of the game, how it's played, and how it's won. Otherwise, it's an exercise some people should just avoid.
This principle applies to so much more than just board games. We live in a culture where people are offended by so many different things. Outrage is the new normal. Social media is full of it. Today's equivalent to flipping the game board, quite often, is tweeting.
Surround yourself with the right people. If your friends, acquaintances, co-workers, etc., are always on the verge of exploding, it's probably better for your own mental health to not spend a lot of time around them.
As I continue in my process of querying literary agents for my novel, I spend a lot of time on Twitter. I see some agents that fall into this category of perpetually outraged. I don't think I'd want them working for my book, honestly. I'd be terrified of offending them at any given moment, if I slipped up and said anything whatsoever about politics, religion, or even pop culture ("No, THIS superhero is the greatest ever!"). Needless to say, that makes this process even harder. How do I find someone who loves my book and wants to see it published, but I'm also excited about working together? It's a minefield out there.
The conclusion? Find people with whom you can enjoy life, even if the process takes a long time. Don't compromise your beliefs (or your game-playing style).

---
* Diplomacy, for the uninformed, is a classic board game of negotiation and strategy in which players are forced to make alliances to get ahead… and probably break those alliances in order to win. Betrayal is practically guaranteed.